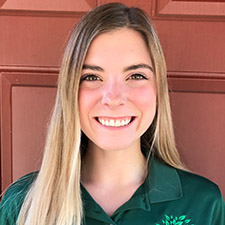 We are so excited to welcome Danielle Reed, M.S., CFY-SLP to the Family First Therapy team! Two years ago, Danielle moved to St. Petersburg to join her husband as he landed a dream job working with the Tampa Bay Rays. Danielle has demonstrated a passion for working with children since graduate school. She earned a certificate as a hearing specialist in early intervention prior to graduating. Danielle has experience working with articulation and language delays, hearing loss, autism, apraxia and is quickly gaining experience with feeding disorders. She has worked in multiple locations but finds working in homes the most rewarding.

We asked Danielle a few "Getting to know you questions". Her answers were fun and engaging, just like her style of therapy.
When you aren't working, what are your favorite things to do?
Danielle: "I enjoy being outdoors, playing with my dog, kayaking and playing softball with my husband. I am a HUGE Rays fan and attend every single game with my husband when they have home games".
What is your favorite food?
Danielle: "I love tacos!!"
What is something surprising about you?
Danielle: "I can shoot a bow and arrow!"
Danielle has immediate availability and will travel to your home. Call today to schedule an evaluation for your child. Her openings are quickly filling up. She is available to travel to the following areas in St. Petersburg:
Old Northeast
Old Southeast
Coquina Key
Pasadena
Shore Acres
Patrician Point
Crescent Lake
Woodlawn
Kenwood
Tierra Verde
Pass A Grille
Riviera Bay
Bahama Shores
Greater Pinellas Point
We are very excited to expand our services to the St. Petersburg and surrounding areas and Danielle is the perfect addition to our team of highly skilled pediatric therapists. Call 813-389-5301 to book an appointment with her today!