Family First Therapy offers tutoring services for children ages preschool to teens in the following areas:
concepts of print
phoneme deletion and segmentation
phonemic awareness
one-to-one word correspondence
letter identification
rhyming
Reading fundamentals
strategies for decoding and comprehension
phonics
handwriting and letter formation
spelling
writing
math fundamentals
number sense
number formation
basic math operations
word problem comprehension
Various resources are utilized to make each tutoring session individualized and meaningful.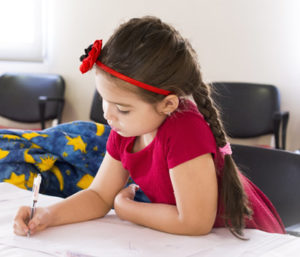 The Spalding phonics program is applied to develop a strong base in phonemic awareness, as well as spelling and reading rules. The program is structured and repetitive, which leads to mastery of letter sounds. It also uses visual, auditory, and bodily-kinesthetic cues to reinforce letter sounds. Tools include 70 phonics cards that include single- and multi-letter sounds, spelling lists, and the use of Elkonin boxes while spelling to make sounds more visual.
For more developed readers, strategies are taught to promote comprehension and create strong writers. Passages that vary in topic, genre, level, and answering methods are used. Modeling and opportunities to apply methods are practiced.
For support in math, most concepts are drawn or explained with manipulatives to make basic and more advanced concepts more concrete and therefore easier to understand. A method known as model drawing will illustrate a word problem to allow the student to fully comprehend the meaning of the words in a word problem and solve it accordingly.
We can't wait to work with your child and equip them with the tools needed to make progress in the classroom, all while helping you and your family learn strategies to improve academic performance.
Call us so we can talk about your child's academic plan today. 813-848-0341